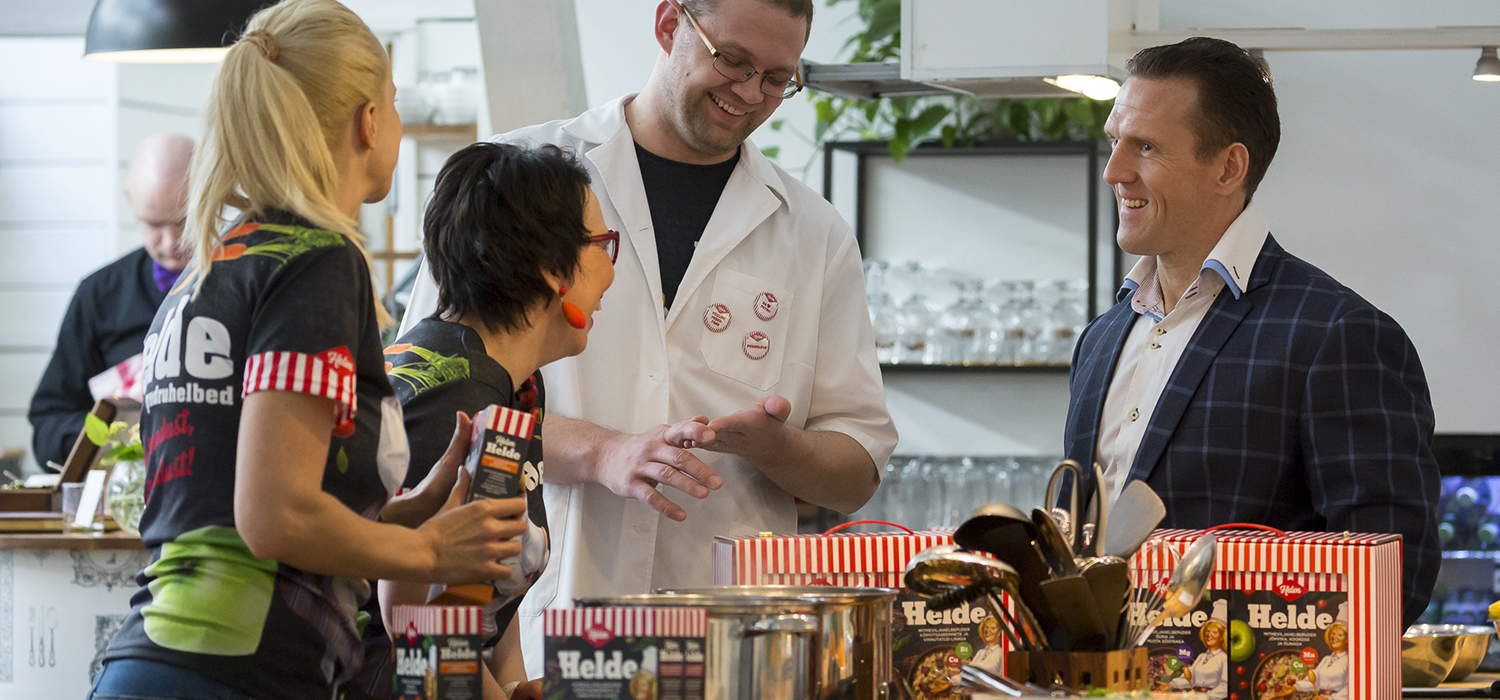 04 Apr

First research-based range of porridges

A press lunch was held at the Food Academy on Tuesday 3 April showcasing the new Helen Helde range of functional porridges – the first in Estonia to have been created in cooperation with scientists.

Sangaste Linnas CEO Pille Pokk says that the aim of the project was to scientifically develop a series of functional products on the basis of a variety of cereal flakes suited to people's metabolisms. "We wanted to come up with a range of porridges that clearly stood out from its competitors, whose healthy properties and functionality would be scientifically proven and that brought together the benefits of a variety of grains, seeds, fruits and vegetables," she explained.

Pokk added that product development took almost three years, with additional funding being sought from Enterprise Estonia. "The research-based approach we've taken gives the range a real edge over everything else on the market, which means it could turn out to be a really strong export article for us further down the line," she said.

The coordinator of research for the range of porridges, BioCC scientist Andre Veskioja, says that product development was guided by the principle that the basic components of the products should systematically contribute to the products as a whole. He and his team were charged with the task of developing a range of products: one based either on buckwheat & rye flakes or oat flakes that contained seeds; one containing animal protein; one containing freeze-dried berries and fruit or vegetables; and one containing desiccated coconut. "Our research was all about combining the flakes and the other ingredients in the right, which is to say very precise, amounts so as to produce porridges with different vitamin and mineral components," he explained. "And the bottom line was that we should be able to prove scientifically the benefits of each of the products for the human body."

In total, 81 combinations were tested as part of the project. The scientists worked with a variety of flakes, including buckwheat, oats, rice and barley. Also tested were such fruits and berries as raspberries, strawberries, cranberries, mangoes and blackcurrants. Different seeds were also added to the blends (among them pumpkin, flax and sunflower seeds) as well as meat, yuzu peel and nuts. All of the recipes were tested and taste-tested at the BioCC laboratory, with a test group of up to 15 people taking part in the product development phase. Microbiological and chemical analyses of the porridges were carried out in five laboratories in Estonia and Finland. "18 variants made it to the final phase and we tested them on 50 families to determine the four most popular ones," Veskioja said.

As a result of this research, the final four mixed grain porridges were selected for the range: one with cranberry, coconut and apple; one with seeds and carrot; one with apple and blackcurrant; and one with pumpkin seeds and jerky.
Producer of Helen's flakes AS Sangaste Linnas received a prestigious food safety certificate. Sangas

In the morning of 4th June, the cereal and grain flake factory AS Sangaste Linnas had a very importa

Cooking porridge at home is not exactly rocket science. Everyone knows that the most ordinary oatmea